About Us
In 1973, the Computer Centre managed to start its teaching activities by offering Postgraduate Diploma in Computer Sciences and short term computer courses. The experience gained offering such courses in computer sciences at an introductory level consequently paved the way for making a successful start to establish a Computer Science Department to offer MSc. degree programme in September 1976.

The rapid change in technology revolutionized the world. The computer technology was constantly changing with a rapid pace, so the IBM-360 Computer System became inadequate to meet the users' needs and ultimately the system became obsolete.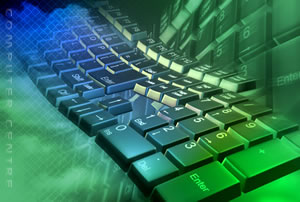 A major departure was needed from the batched system to an online computing environment that should not only reflect the state of technology both in hardware and software but to cope with the educational, research and administrative requirements/needs of the University. So, in 1987, with the assistance of the Japanese Government, a general purpose mainframe computer NEC 610 was acquired for the Computer Centre that ultimately replaced the former system IMB-360.
The installation of the NEC-610 mainframe computer was completed in September 1987. Online computing facilities were available to all the departments in the University. The system remained in use for nearly a decade. The system started malfunctioning due to hardware/system software problems and became out of order. The maintenance of the system was too expensive to keep the system operational. Eventually, the system became obsolete. As an alternative arrangement, the University purchased a minicomputer (i.e. IBM-AS/400) along with twenty Pentium intelligent terminals to provide computing facilities to the students and faculty members. This system was made operational in June 1998. It facilitated the students to develop and run their applications relevant to their areas of study and also faculty members for their research projects. At present the system AS/400 Model 600 is not in operation.
In 1990s, Personal Computers were offering extensive computational facilities at lower costs. Personal Computers and their related software applications were more prevalent in the organizations. Keeping in view such trends, seven PC's (Pentium-III) were purchased and installed in the Computer Centre during the financial year 1999-2000. The PC environment provided an ideal opportunity to the students to run their applications on micro computers.
The computing facilities have been extended gradually. At present, two computer labs have been established in the Computer Centre consisting of 45 PC's and are networked. The students are using the labs to get completed their assignments, project work and to access internet. The labs remain open for the students during working days.